Prescriptions
A standard prescription is shown below.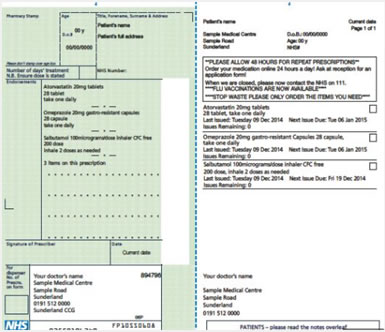 • Patient Number - This uniquely identifies you to the Mid Devon Medical Practice.
• Current Prescription - This is the medication you are being prescribed on this occasion.
• Repeat Prescription - You may request repeat prescriptions for any of the items in this list.
• Medication Quantity - This is the quantity which will be supplied on repeat prescriptions.
• Medication Review Date - Once you reach this date your medication will need to be reviewed by a doctor. You should make an appointment to see your GP for a medication review.

Repeat Prescriptions
If you are taking medication regularly you may be given a repeat prescription allowing you to order supplies without seeing a doctor for a period of time or number of issues before review with your GP is required.
Practice policy is to provide one month supplies for repeat medication.

Repeat prescriptions must be ordered at least two working days in advance of when you will need them.
Bank Holidays do not count as working days and requests made after 5pm will not be processed until the following day.
Therefore, for example (using two working days) at Easter, a request made on the Thursday before Good Friday will not be ready to collect until the following Tuesday if requested before 5pm or the following Wednesday if ordered after 5pm.

Please note that once you reach your medication review date as shown on the repeat prescription slip your medication will need to be reviewed with you by a doctor and you should make an appointment to see your registered GP to do this.

If you feel you need any medication not shown on your repeat slip you should make an appointment with your registered GP to discuss this further. This will allow your doctor to ensure the medication is being used appropriately and safely - if you feel something should be on your repeat list please feel free to discuss it with your doctor.

You can request a repeat prescription in one of the following ways:

• By using the on-line service Patient Access. Please note that you will need to register for this service before you may use it.
More detailed information can be found at:
https://www.middevonmedicalpractice.co.uk/onlineservices.php
• Post the repeat prescription slip, or simply drop it into the surgery.
• E-mail your request to the surgery clearly stating your name, address and DOB.

Prescription Charges
You may be exempt, depending on your circumstances.

The single prescription item charge is currently £9.65.
For those patients who are required to pay for their prescriptions there are other methods available. A three-month Prescription Payment Certificate (PPC) and a 12-month PPC, both will save you money if you have to pay 2 or more prescription charges every month.

Prescription Prepayment Certificates (PPCs) can be bought at https://www.nhsbsa.nhs.uk/help-nhs-prescription-costs/nhs-prescription-prepayment-certificate-ppc